Geriatric Massage Certification – Level 1
with Sharon Puszko, PhD, LMT
August 8-10, 2014 | Friday-Sunday, 10:00am-5:00pm | 18 CE contact hours | $395
Massage therapy can play a powerful role in the improvement and maintenance of the physical and emotional well-being of seniors. Older people vary greatly from each other even though they may be of the same age. Geriatric Massage Level 1 will enable you with the fundamental knowledge to confidently and successfully work with people in their 60's, 70's and beyond. You will learn to assess the general condition of each individual client, modify your standard massage techniques and develop special methods to suit special needs. A live clinic is included in the course.
This course will cover:
Physiological, psychological, and sociological aspects of aging
Client assessment, cautions, and contraindications
Modification of standard massage techniques and development of special methods to suit each client's special needs
Practical hands-on work with older people
How to establish a geriatric massage practice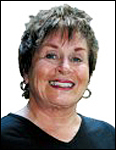 Sharon Puszko is the owner and director of the Daybreak Geriatric Massage Institute. Day-Break was founded in 1982 by Dietrich Miesler of Germany (1925-2006). Sharon worked and studied with Dietrich for a number of years after she graduated from massage school. He passed the Institute to her in 2001 upon his retirement. Sharon travels extensively throughout the US and internationally – from Nova Scotia to Singapore – teaching the Daybreak Geriatric Massage Level 1-Beginning and Level 2-Advanced workshops in a variety of schools. She is a graduate of the University of California with a major in education.
After teaching Biology and English for many years, she made a career change to the wellness field in 1986 and is a graduate of the Pittsburgh School of Massage Therapy and Healthbuilders School of Massage Therapy in St. Augustine, FL. Along with overseeing the operations of the Institute, she has a private practice and does volunteer hospice work.
REGISTER for a Workshop  |  Browse Workshops by MONTH  |  Browse Workshops by CATEGORY  |  CE Home