Cornerstones of Nutrition: a 4-part series
with Penny S. Jeffrey, PhD, LMBT
Each class is 3 CE contact hours | $65 each, or $225 for all 4 | open to the public
000
The Carbohydrate Cliffhanger

| Wednesday, March 15, 9:30am-12:30pm


The Protein Prodigy

| Wednesday, March 15, 1:30-4:30pm
The Lipid Legend

| Wednesday, March 29, 9:30am-12:30pm


Vitamins, Minerals and Water, OH MY!

| Wednesday, March 29, 1:30-4:30pm

These classes will give you a fundamental knowledge of the four cornerstones of nutrition by guiding you through learning the structures and functions, as well as the processes of digestion, absorption, and metabolism of carbohydrates, proteins, lipids, and vitamins/minerals/water. You'll learn about different food sources, reasons influencing choice, and current research on each group as it relates to health and well-being. The majority of formal massage programs only introduce students to small components of nutrition within the context of Anatomy & Physiology. Learning nutrition in a broader and deeper context offers a greater fundamental knowledge of how therapists can support their own health and well-being.

You can pick and choose which classes you want, or sign up for all four at a discount. Note that Dr. Jeffrey's six-hour course on Nutrition Education presented on March 3 is recommended as a prerequisite to these classes, but it is not required.

After completing this course, participants will be able to:
Compare the structural differences among types of carbohydrates, proteins, lipids, and vitamins/minerals/water
Explain the roles of each nutritional cornerstone for the body.
Describe the process of digestion, absorption, and metabolism of each cornerstone
Compare levels in common food sources
Recognize peer-reviewed nutrition research
Discuss internal and external factors that influence nutrition behavior and choice of each cornerstone in diet
Reflect and support self-care behaviors related to food choices
This course will be structured with several teaching strategies to accommodate various learning styles. Teaching strategies include lecturing with support of visual aid such as technology, discussing, analyzing case studies, small group activities, think-pair-share, and reflective writing.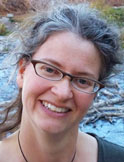 Penny Shumaker Jeffrey is a NC Licensed Massage & Bodywork Therapist (#1425) and a graduate of the Body Therapy Institute. She holds a masters degree in Nutrition and doctorate in Science Education from North Carolina State University. Her graduate research focused on how adult food behavior and choices are influenced by mass media sources such as print and television. Penny has taught community college and university-level courses in both nutrition and science education, and is currently on the faculty of NC State.
Her teaching is fully grounded in constructivism, and her passion is being able to guide people to a greater awareness in their bodies while discovering their personal health and well-being goals. Penny is a member of ABMP and AMTA, and serves on the Board of Directors for the Alliance for Massage Therapy Education.
REGISTER for a Workshop  |  Browse Workshops by MONTH  |  Browse Workshops by CATEGORY  |  CE Home