The Intersection of Yoga and Massage Therapy
with Carol Verner, MSC, RYT, RCST, LMBT
April 19-20, 2017 | Wednesday-Thursday, 9:30am-5:30pm | 14 CE contact hours | $295
The rigor of delivering body-oriented treatments can be quite demanding on practitioners. Yoga is exceptional self-care. Come to the intersection of yoga and massage therapy for relief and for your own delight. Plan to be active in body and mind as we learn specific ways to reduce the aches, pains, and mounting stress that are often part of an active massage therapy practice—and an active life.
"The purposes of Yoga are to make the body easeful and the mind peaceful so that our lives might be useful." These words are from one of my teachers, Swami Satchidananda (1914-2002). He simply and beautifully sums up the core values of Yoga and why it is relevant for us as massage therapy professionals today.
Yoga is a time-tested, comprehensive system of self-development and self-care. We will explore some of the many gifts of yoga: active poses to strength and open the body, breath practices, mindfulness, meditation, and the jewel of yoga, deep relaxation. My stand on relaxation is simple: Relaxation is a skill; we get better at it with practice; and, relaxation underlies all of our self-regulating and self-healing capacities. To understand this more fully, we will review the relaxation and stress responses of the Autonomic Nervous System.
Bring your questions! We'll have open discussions to talk about what recommendations we can and cannot offer our clients, what elements of practice serve our own needs, and how yoga can help each person to optimize well-being for joy and longevity in your career.
Come dressed to move and bring these props: a yoga mat or two, one bath towel, two hand towels, and any yoga props you might already have. Straps and blocks will be provided.
Central experiences in your learning:
Yoga asana and flows, plus modifications for safe and effective practice
Yoga for our hands, called Mudras
How to use the essential guideline for safe practice, the Threshold of Capacity
The science and practice of rhythmic breathing for focus, relaxation and energizing
Mindfulness and sustained attention
Neuroplasticity: our inherent tendency toward self-regulation and how to support it
What hurts and what helps, how to get specific support for your issues = Yoga Rx
The Jewel of Yoga, Deep Relaxation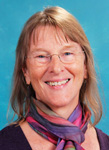 Carol Verner teaches with clarity and expertise developed in her twenty-five years of teaching yoga, maintaining a thriving massage practice and teaching anatomy, physiology and kinesiology at BTI. She blends elements of science and active practice with precision to help you know what to do, and why it is useful for you. Carol is a Registered Yoga Teacher with the Yoga Alliance. She holds teacher certification both with Swami Satchidananda's Integral Yoga International, and for many years up to the present, with Kali Ray and TriYoga. She teaches anatomy yearly in the Advanced Yoga Teacher Training at Heart of Yoga School. Carol has a private practice in Carrboro, NC, Moving Into Wholeness. She teaches TriYoga and practices Biodynamic Craniosacral Therapy, Integrative Bodywork and Somatic Coaching. Contact her at carol.somatics@gmail.com, 919-933-2330.
REGISTER for a Workshop  |  Browse Workshops by MONTH  |  Browse Workshops by CATEGORY  |  CE Home