Become a Licensed Massage Therapist
Train now for a rewarding career and a more fulfilling life
BTI's Massage Therapy Diploma Program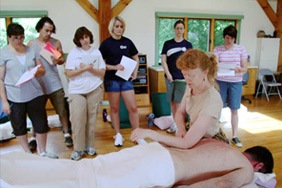 A Wealth of Opportunities Awaits You
Enjoy the many benefits of being a member of the fastest-growing natural health care profession.
Have meaningful and enjoyable work in your life, be of service to people in your community, increase the health and well-being of your clients, and experience the freedom and flexibility to work in the way you desire.
BTI grads are in high demand from employers, and training in massage therapy at BTI will get you where you want to go.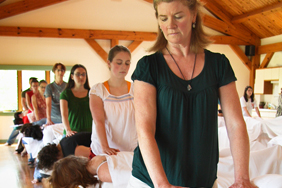 Train with a leader
BTI is one of the most highly respected massage schools in the country. We offer programs of exceptional quality in a spectacular natural environment.
Discover a place where you can realize your goals and dreams through an integrative approach to massage therapy based in mindfulness, compassion and somatic awareness.
We invite you to join our diverse community of learners to explore the marvel of the human body and experience the potency of conscious touch for healing and transformation.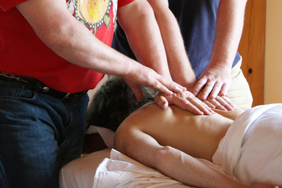 A Curriculum Designed for Your Success
Our 660-hour Diploma Program provides everything you'll need to begin a massage career in a wide range of professional settings. It will give you a solid foundation in hands-on skills, detailed knowledge of the body, and all related subjects to be confident and effective in your therapeutic work with clients.
BTI's dedicated faculty members are expertly-trained in the art and science of teaching, and are among the most experienced massage instructors in the profession.
Throughout the program, you'll receive state-of-the-art training and personalized attention to help you achieve your highest potential.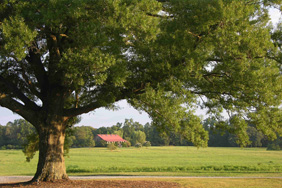 An Ideal Place for Learning and Healing
BTI's spectacular campus at South Wind Farm encompasses acres of rolling meadows, ponds, woodlands and abundant native wildlife.
This setting, in the heart of North Carolina's Piedmont region, provides an ideal environment for the study of the healing arts.
When you come here as a BTI student, you get to bathe in the beauty and tranquility of nature, and go home feeling relaxed and restored.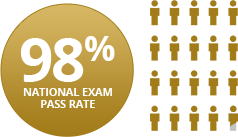 Amazing Track Record of Success
Over the past five years, BTI graduates have achieved a 98% first-time pass rate on the Massage & Bodywork Licensing Examination.
This achievement compares to a national average pass rate of just 78%. The MBLEx is required for licensure in North Carolina, and is accepted in most states.
Testimonials

KUMI SAWYER SAID:
"Since graduating from BTI,
my life has been forever changed.
It is a joy to go to work and touch
so many lives. "

MYRA BLACKWELL SAID:
"Attending BTI has given me a strong
foundation for a beautiful new
career – and an opportunity for a
new sense of myself to emerge. "

STEPHEN BROOKS SAID:
"I felt a great sense of
safety and peace in the
transformational learning process
I experienced at BTI.. "

CRISTINA GARCIA said:
"Thanks to my excellent training at
BTI, I'm making money, I'm helping
people, and having a great time
doing it. "