About BTI
Mission and Philosophy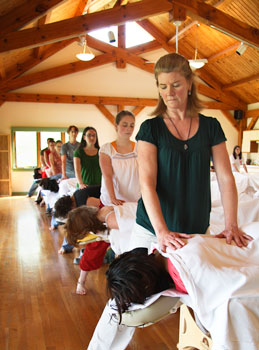 BTI provides opportunities for Learning that Changes Lives.
In pursuit of this goal, we teach people how to touch in a caring and professional manner, and how to utilize those healing skills to increase the health and well-being of all they reach. We are committed to assisting our students in achieving excellence in the therapeutic knowledge, sensitivity and personal awareness necessary for the effective and successful practice of massage therapy.
*   *   *
People from diverse backgrounds come to our school for education that is transformational – both for the person engaged in the learning process, and everyone that person will touch. Those who study at BTI can discover more about themselves as they gain new knowledge and skills.
We believe that conscious and compassionate touch is essential for well-being. Throughout the ages, massage therapy and other somatic arts have been revered as a source of healing – with the power to affect body, mind, heart and spirit. There is a great need for such healing in today's stressful world, as this work helps brings people into a greater sense of wholeness and balance, and into a more secure connection with the community around them.
Experience. Integrity. Quality.
BTI has been a leader in the massage and bodywork profession, and is nationally respected for its tradition of innovation and academic excellence. Those who have studied here know that they can count on receiving high quality instruction in a beautiful environment for integrative learning.
The school offered a Massage Therapy Diploma Program from 1983-2016, preparing people for a career in hands-on healing. Going forward, BTI will continue to sponsor courses from the Center for Embodied Education.
Center for Embodied Education at BTI
Directed by Carey Smith, the Center offers teacher training programs that are targeted to the needs of massage, somatic and healthcare educators