Somatic Educational Leadership

.
Somatic Educational Leadership
Embodying Personal and Professional Mastery

with Carey Elizabeth Smith
This training consists of two 3-day sessions
42 continuing education contact hours | $895
Future dates to be announced
…
This advanced training offers transformational theory and methods for therapists, teachers, coaches and managers.
Somatics is the field of study dealing with how we experience ourselves (and the world) from the inside. Philosopher and movement repatterning pioneer Thomas Hanna coined the term, and he also defined soma as the body as perceived from within. In contrast to the common objective view of the body as a purely physical entity, somatic approaches embrace the subjective world of the sensory and kinesthetic body.
This six-day training will provide an in-depth exploration of somatic practices that develop the following skills and capacities:
How to live more fully and enjoyably in our bodies
How to translate our own histories into a current story that produces more aliveness and openness
How to help our clients, students, colleagues or team members to access more of their own embodied wisdom
to facilitate learning, healing and growth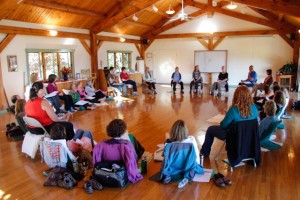 This is a unique opportunity to deepen your knowledge and practice of learning through the vast somatic network of the body. In our days together, we will study the practical application of somatics in three domains – healing, education, leadership – and how they come together as a mighty river that carries us forward, shaping and being shaped by the landscape of our internal and external lives.
With a primary focus on present-centered phenomena, we will experience the fundamental wholeness and unity of being human in a three-dimensional body that both contains and expresses our thoughts, feelings, sensations, impulses, intuitions, inspirations, ethics, values, ancestral lineages, longings, imagination and future vision.
Our accrued life experiences determine the literal shape and functioning of the body, in a process called embodiment. Over time and with much repetition, it is the very malleability of the body that produces the characteristic patterns and habits that are either life-negating or life-enhancing. With embodiment as our guide, we will look at how to work through the body to facilitate increased resilience, life force, adaptability and long-lasting change.
In this highly experiential workshop, we will bring our attention, awareness and dedication to repeatable somatic practices designed to reveal and generate: 1) meaning; 2) a commitment to what matters in our lives; and 3) the capacity to bring what matters into form.
We will learn the 31 Jo Kata from the Aikido tradition as both means and metaphor to experience the dynamic and evolutionary process of healing, learning and leading. Click here to watch a video of Richard Strozzi-Heckler demonstrating the 31 Jo Kata.
Together, we will celebrate our immense capacity for living integral lives that generate good will toward self and others, meaningful and fulfilling work, and an abiding love and respect for the beauty of this earth.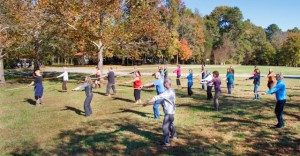 PREREQUISITE FOR ENROLLMENT:
This advanced training is open to graduates of The Spirit of Learning® Teacher Training Program, along with those who have considerable professional experience in the domains of somatics, education, or leadership. If you have a question about whether this training is appropriate for you, contact the instructor at <carey@bti.edu>.