Medical Massage Certification Program
Advanced Training with Ralph Stephens, LMT
In this comprehensive 100-hour graduate program, therapist and author Ralph Stephens presents a powerful and highly effective clinical approach that will enable you to help your clients with a wide range of musculoskeletal problems.
Explanations of postural distortion, including common postural syndromes and conditions in each body region will be presented. Assessment techniques will be demonstrated, followed by specific massage and stretching techniques which will enable the therapist to address the abnormal and dysfunctional tissues. Learn why it is so important to work on the "other side of the pain" and the most efficient, yet gentle ways to do it.
2016 Program Dates:
Module 1 | April 1-3, 2016
Friday-Sunday, 9:30am-5:30pm
Assessment & Treatment of the
Cervical, Lumbar and Pelvic Regions
Module 2 | July 15-17, 2016
Friday-Sunday, 9:30am-5:30pm
Assessment & Treatment of the Abdominal Wall,
Shoulder Girdle and Upper Extremity
Module 3 | October 6-8, 2016
Thursday-Saturday, 9:30am-5:30pm
Assessment & Treatment of the Lower Extremity,
plus Side-Lying Strategies
Each module includes 21 continuing education contact hours

Flexible Training Format: You can progress through these modules in any order. And you can register for them individually, or together as a program for a significant savings.
Free article: You can learn about this rapidly-growing approach to the treatment of pain and musculoskeletal problems in Ralph's four-page article entitled Medical Massage and More. Just click the link to download.
This program includes 63 hours of in-class instruction, delivered in three separate modules. For those who wish to pursue certification, there are 37 hours of required out-of-class assignments and treatment documentation. This work will give you the opportunity to put the theory and methods into practice, and to get personal feedback from Ralph in this process.
Ralph Stephens Seminars will award certification to participants who complete all required course work and pay an additional $150 certification fee. BTI will provide ongoing continuing education documentation after the end of each of the three modules.
Comments from graduates of the Medical Massage Certification Program at BTI:
I have incorporated these methods into my work in a busy physical therapy clinic; my clients note a significant reduction in pain and symptoms as a result.
Ralph is a phenomenal teacher… he has a wonderful sense of humor, is down-to-earth and has so much information to share. He is an encyclopedia of massage techniques.
These three classes have given me a quicker and more effective way to treat my clients' conditions.
Not only have I gained confidence and a whole new level of specific knowledge, I can now look at specific complaints at a holistic level throughout the body… I'm gaining a whole new base of clients who are looking for pain relief and real results.
Program Cost:
Cost is $475 per workshop if registered individually. The cost for all three modules when paid at the beginning is $1225 – a savings of $200.
Convenient payment plan option:
Register for all three modules and pay the $1225 cost in seven monthly installments of $185.00 (includes a $10 service charge per payment). This plan requires an auto-draft from a credit or debit card (VISA, MC, DISCOVER or AMEX), and you must make the first payment of $185.00 with registration. The remaining six payments will follow on a monthly basis from your time of registration. Contact the BTI Office to set up this installment payment plan.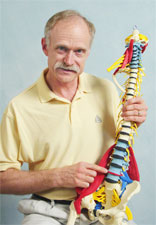 Ralph Stephens is an internationally recognized author and video producer, and has been a popular presenter at state, regional and national massage therapy meetings for three decades. He has a bachelor's degree in education from Iowa State University and graduated from New Mexico School of Natural Therapeutics as a Natural Therapeutics Specialist.
He is an Iowa Licensed Massage Therapist, is past chair of the Iowa Board of Massage Therapy Examiners, received the AMTA National Meritorious Award, and is a member of the Massage Therapy Hall of Fame. He is the author of Therapeutic Chair Massage, published by Lippincott, Williams & Wilkins, and is a regular columnist for Massage Today.
He was the first to adapt anatomically specific massage and stretching techniques to the seated position, and is currently specializing in Medical Massage and Seated Therapeutic Massage. Ralph is a friendly, dynamic, inspiring instructor known for his entertaining delivery style that makes learning easy and enjoyable. He lives in Cedar Rapids, IA. For more information, visit his website at: www.ralphstephens.com.
REGISTER for a Workshop  |  Browse Workshops by MONTH  |  Browse Workshops by CATEGORY  |  CE Home