Traditional Thai Massage with Bob Haddad, RTT
ooo
Nuad Boran (known as traditional Thai massage in the West) combines Eastern acupressure techniques, Indian Ayurvedic principles, and assisted yoga postures. The overall effect is one of deep relaxation, rejuvenation, and physical and mental stability. Through assisted movements, the client's body can be stretched in ways that are difficult to accomplish through normal exercise and yoga practice.
Traditionally, the work is carried out within the Buddhist practices of Mindfulness (breath awareness) and Loving Kindness (focused compassion).
This series of classes is open to everyone, and previous experience in Asian bodywork is not required.
Each workshop is three days in length, held Friday-Sunday from 9:30am-5:30pm | 20 CE contact hours
Cost: $450 per workshop, or $1150 for the entire series (a savings of $200)
Installment payment plan available from BTI for the 3-part series:
5 monthly payments of $240.00; first payment made at time of registration, with 4 payments to follow May-August (incl. $10/month service charge)
Contact BTI directly for information on this plan.
Working the Shoulders, Head, Neck and Face
August 18-20, 2017
From a Thai massage and Eastern healing perspective, after we work on the lower torso, if energy and tension in the upper body is not released properly, we can leave clients feeling unbalanced, incomplete, and even vulnerable. This workshop explores a wide variety of techniques that address the shoulders, shoulder blades, clavicle, neck, head and face. In class, the techniques are practiced in traditional style on a floor mat, but many of them may be incorporated into other forms of work, such as table massage.
Working in all body positions, we explore a wide variety of techniques using feet, palms, forearms, elbows, thumbs and fingers. Participants explore new and interesting techniques to release stored tension through stretches, compressions, fascia release, and opening techniques. We also review and refine traditional Thai techniques for the shoulders, upper back, and neck. Finally, a wide variety of manual techniques and pressure points for the head and face are presented, many of which are not usually taught in continuing education classes. Herbal balms and Thai herbal water are used for some of the face and neck techniques.
Participants have ample time to give and receive each day. This is always an enjoyable workshop because the mood is meditative, and everyone loves to receive work on their shoulders, neck, head and face.
Thai Massage: Prone & Side Position Techniques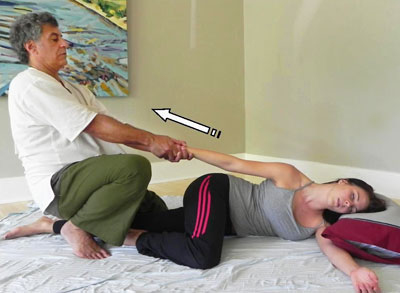 September 22-24, 2017
If you are new to Thai massage, this workshop will provide you with a basic knowledge of techniques in prone and side positions. If you have already studied some Thai massage, this workshop will add new techniques to your repertoire, and a give you a fresh perspective on the work. This workshop presents special techniques to work the legs, to relieve back pain, mobilize the hips, and work the spine, back, arms and shoulders.
Side position is extremely comfortable for the receiver. It is especially suited for large or inflexible people and it is also the only safe way to work with pregnant women. Prone position allows the therapist to treat the posterior aspect of the body, especially the feet, legs, lower back and shoulder blades. Each participant learns traditional Thai techniques, assisted yoga postures and acupressure protocols, and a period of silent, focused practice takes place at the end of each day.
Many of the techniques may be integrated into table massage and other forms of healing. A special segment is dedicated to working with pregnant women in side position.
Thai Massage: Supine and Seated Positions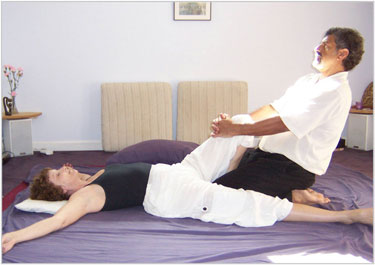 October 20-22, 2017
This workshop is geared toward bodyworkers, alternative healers, yoga practitioners, and anyone who is interested in learning Thai massage techniques. The course is presented in a manner that allows each participant an opportunity to learn and practice through repetition of key concepts and skills, and with close supervision of the instructor. Variations of the techniques are practiced in accordance with the relative height and weight of practitioner and client.
It is helpful to have some previous experience in massage, physical therapy, yoga or body movement, but it is not required. By the end of the workshop, each person will have learned a basic routine of traditional Thai techniques that, when practiced sequentially, can provide a relaxing practice session in supine and seated positions. Many of the techniques may be integrated into table massage and other forms of healing. This is a fun, introductory workshop designed to provide a basic knowledge of Thai massage in these two body positions.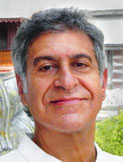 Bob Haddad is the author of Thai Massage & Thai Healing Arts: Practice, Culture, Spirituality (2013, Findhorn Press). He has studied with many teachers in Thailand, Europe and North America since 1999, and is founder and director of the non-profit organization, Thai Healing Alliance International (THAI). He is an Approved Continuing Education Provider with NCBTMB (provider #419948-00), an Instructor member of THAI, and a Registered Thai Therapist. Bob's home is in Chapel Hill, NC and he teaches workshops internationally.
For additional information, visit his website at: www.thaihealing-arts.com.
REGISTER for a Workshop  |  Browse Workshops by MONTH  |  Browse Workshops by CATEGORY  |  CE Home