5 Easy Steps to Enrolling at BTI
We invite you to visit the Body Therapy Institute and discover the massage school experience that has made a positive difference in the lives of so many people!
Through our renowned Massage Therapy Diploma Program, you can become a highly sought-after massage therapist and have a career that you truly love.
Here are the 5 Easy Steps:
1) Tell us you're interested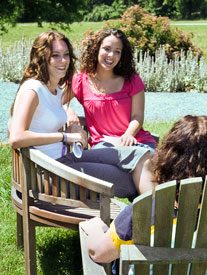 It all begins with you contacting us. Fill out the form at the right side of this page and we will contact you to begin a conversation about your interest in massage therapy education. You'll also receive a FREE 20-page information catalog about massage therapy, BTI and our training programs. There is no obligation to continue with the enrollment process and you'll have lots of information to help you decide if becoming a professional massage therapist is right for you.
2) Free Campus Tour and Exploration Session
Schedule a time to visit BTI and meet with one of our Admissions Representatives. You'll get a tour of the beautiful school campus, learn more about the Diploma Program, and have an interview. This is an interactive conversation designed to help you identify where you are in your life, where you'd like to go, and determine whether the field of massage therapy is a great match for you. During this visit, you'll also have the opportunity to ask questions.
3) Submit Your Application
The next step is to complete your BTI Application for Admission and pay the $25 Application Fee.
4) Apply for Financial Aid (if needed)
Financial Aid is available for those who qualify. To determine your eligibility to receive Pell Grants and Direct Student Loans from the US Department of Education, or VA Benefits – you'll meet with BTI's Financial Aid Administrator who will assist you with all aspects of this process. Click here for information on applying for financial aid.
5) Review by Admissions Committee
Following the completion of all requirements in the admissions process, your application is reviewed by the school's Admissions Committee to determine acceptance into the Diploma Program.
Call 919-663-3111 now to speak with one of our Admissions Representatives.
Want to jump-start your process of becoming a student at BTI?
Click here to access the online APPLICATION FORM
(You can complete this step BEFORE your Campus Tour)
Are you comparing BTI to other schools?
You owe it to yourself to discover The BTI Difference.
And while you're at it, learn the essential questions you'll need to ask of any program you're considering on our informative page How to Choose a Massage School.