Massage Therapy Diploma Program
–
BTI is not currently enrolling new students for this program.
You may complete the request form to access the 20-page school catalog.
A WEALTH OF OPPORTUNITIES AWAITS
Enjoy the many benefits of being a part of this exciting and rewarding natural health profession, including: having meaningful and enjoyable work in your life, being of service to people in your community, increasing the health and well-being of your clients, and having the freedom and flexibility to work in the way you desire. Training at BTI will get you where you want to go.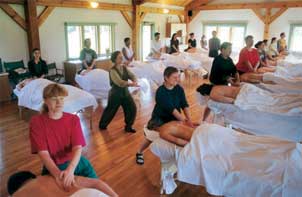 Today, massage therapy is the most widely used complementary health care service in the country. Because of its popularity and effectiveness, there are an abundance of career opportunities in this growing profession.
These range from massage franchises, fitness centers, destination resorts, day spas and salons to a wide variety of private practice settings. An increasing number of massage therapists are maintaining independent practices in professional offices, or are working in group practices and hospitals with medical doctors, chiropractors, physical therapists, acupuncturists and psychologists. Other possibilities include home visits and on-site massage services in the workplace.
MORE THAN CAREER TRAINING – IT'S A LIFE-CHANGING EXPERIENCE
Over the past three decades, Body Therapy Institute has offered a complete entry-level training program for those interested in pursuing a professional career in massage therapy, for health care practitioners seeking to enhance their range of clinical skills and knowledge, and for those who are interested in the exploration and integration of body, mind, emotions and spirit.
In our "whole-person" educational model, we approach the therapeutic process with a profound respect for our inner wisdom and self-healing capabilities. From this perspective, we view the practice of massage as both the application of knowledge and hands-on techniques – as well as a means of creative expression and self-discovery. Those who have graduated from BTI's Diploma Program consistently tell us that it is a life-changing experience!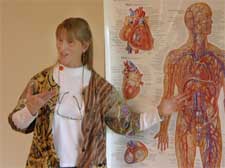 NATIONALLY RESPECTED AS ONE OF THE LEADING MASSAGE THERAPY SCHOOLS
As the first school in the Carolinas to be accredited by the Commission on Massage Therapy Accreditation (COMTA), BTI has consistently demonstrated its commitment to high standards of accountability and performance. We choose to operate at this level so that our students are assured of receiving quality education – and so the public receives quality therapeutic services. Here are some impressive numbers:
96% of BTI graduates passed the national Massage & Bodywork Licensing Examination (MBLEx) in 2008-2015 on their first attempt. This compares to the current national pass rate for the MBLEx of just 70% – more than a 25-point difference!
Over the history of the school, 90% of the students who enrolled in the Diploma Program have completed their training.
More than 75% of our graduates are engaged in the professional practice of massage therapy following completion of the program.
Our surveys indicate that 100% of the employers of BTI graduates (who responded) are either "very satisfied" or "extremely satisfied" with the quality of their work.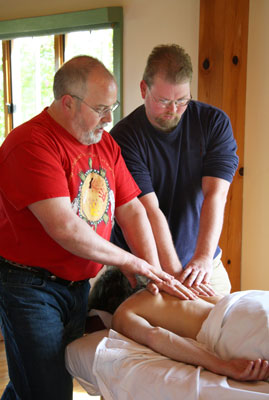 AN INTEGRATIVE CURRICULUM
The program is presented in a learning environment which supports healing and awareness of the whole person. Throughout each of the courses, our dedicated and experienced faculty guide you in the process of achieving excellence in the therapeutic knowledge, sensitivity and personal awareness necessary for the effective and successful practice of massage therapy.
Graduates of the program are eligible to take the Massage and Bodywork Licensing Examination, and to apply for state licensure with the North Carolina Board of Massage & Bodywork Therapy.
Our curriculum is organized sequentially, and is designed so that all courses integrate with one another. In the first half of the program, we establish a solid foundation in fundamental hands-on skills, optimal body mechanics, knowledge of the musculoskeletal system, and awareness of the mind-body connection. In the second half, we present additional hands-on modalities, deepen the understanding of the client/therapist relationship, and explore the elements necessary for creating a successful professional practice.
The curriculum consists of 660 clock hours. Complete descriptions of the courses listed below are found in our free catalog:
MASSAGE THERAPY I (163 hours)
Introduction to Embodied Touch (23 hours)
Theory & Practice of Classical Swedish Massage (140 hrs)
MASSAGE THERAPY II (139 hours)
Myofascial Massage (113 hours)
Integration of Clinical Skills (26 hours)
ANATOMY, PHYSIOLOGY, KINESIOLOGY & PATHOLOGY (133 hours)
PERSONAL & PROFESSIONAL DEVELOPMENT (95 hours)
Business and Marketing Practices (26 hours)
Professional Ethics and Massage Laws (23 hours)
Therapist Self-Development (23 hours)
Group Dynamics and Learning Styles (23 hours)
SOMATIC PSYCHOLOGY & COMMUNICATION SKILLS (39 hours)
HYDROTHERAPY & SPA MODALITIES (20 hours)
STUDENT MASSAGE CLINIC (25 hours)
COMMUNITY SERVICE EXTERNSHIP PROJECT (46 hours)
To view financial information on the Diploma Program, as well as other disclosures required by the U.S. Department of Education, CLICK HERE.
Are you comparing BTI to other schools?
You owe it to yourself to discover The BTI Difference.
And while you're at it, learn the essential questions you'll need to ask of any program you're considering on our informative page How to Choose a Massage School.