backup homepage
[metaslider id=4354]
Welcome to Body Therapy Institute
BTI is a massage school that offers programs of exceptional quality in a spectacular natural environment. Discover a place where you can realize your goals and dreams through an integrative approach to massage therapy grounded in the practices of mindfulness, compassion and embodiment.
Massage Therapy Diploma Program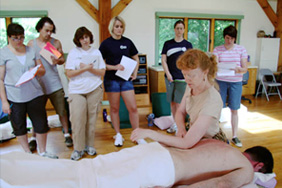 Train for a rewarding new career at BTI
Have meaningful and enjoyable work in your life
Be of service to people in your community
Increase the health and well-being of your clients
Experience more freedom, flexibility and creativity
To learn more about BTI's renowned professional training,
click this photo, fill out the request form to get instant access
to our free school catalog, or call us at 919-663-3111.
Upcoming Events
Massage Research with Dr. Adam Perlman
---
Sign up for this important one-day class on March 18

BTI is excited to again collaborate with leading clinicians and researchers from Duke Integrative Medicine to help members of the massage therapy community gain the knowledge and skills to participate in research and to collaborate with other health care providers in interdisciplinary settings. Learn how research can benefit your massage practice.
Sports and
Performance Massage
---
April 22-24 with
Sara J. Clawson, MS, LMBT

This comprehensive workshop will give you a detailed understanding of sport-specific assessment skills, indications and contraindications for common athletic injuries, and the use of biomechanics principles to help both amateur and professional athletes optimize their performance during training, competition, and the movements of everyday life.
Traditional Hawaiian Healing Arts at BTI
---
April 28-May 1 | Two workshops with S. Pualani Gillespie

Learn about the teachings of the ancient Hawaiian Healing Arts, and the true spirit of Aloha. These methods have been carried forward in an unbroken chain and are still used today by elders from the Big Island of Hawaii. Two-day intro class on Lomilomi massage, followed by two-day Advanced class for those who have studied with Pua Gillespie or other teachers.