BTI Student Massage Clinic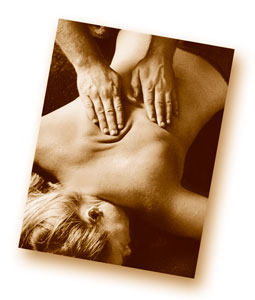 Throughout the year, the BTI Clinic offers one-hour massage sessions with students in the Massage Therapy Diploma Program. The work is performed under faculty supervision in the school's classroom.
Your session can be used for stress reduction and general well-being, or can be focused on specific regions of muscular tension in the body.
Enjoy the healing benefits of massage while you relax in the beautiful natural environment of South Wind Farm, our country campus located between Pittsboro and Siler City.
The fee for a student massage session is $25.00 ($15.00 for Seniors)
All appointments are made by phone through the BTI Office
Appointments are reserved on a first-come, first-served basis
Sessions are given at 9:00am, 10:30am, 1:00pm, 2:30pm and 4:00pm.
Here's the 2016 Clinic Schedule:
February 25-27 | June 16-18 | July 21-23 | Sept. 29-October 1

(Clinics are held on Thursday, Friday & Saturday during each of these blocks)
Before contacting BTI to schedule your appointment, please download and read the Orientation to Student Clinic and Client Consent Form. This essential information will let you know how the student clinic is organized, and help you determine whether the service is appropriate for your needs.
«« Click the cover image to download the
Orientation to Student Clinic & Client Consent Form
Call BTI Monday-Friday, 9:00am-4:30pm at 919-663-3111. When you schedule an appointment, you will be sent a confirmation form and driving directions to BTI.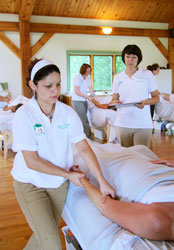 Feedback from people who have received massage in our Student Clinic:
I enjoyed my massage immensely! My friends will enjoy it also. Can't wait to return. I am truly grateful.
This was a very peaceful experience which I did not expect in a clinical setting. Well done! The student was very good and did a great job of relieving me of my headache, which I woke up with this morning.
The therapy I received was very much appreciated. The student was very thorough and paid special attention to my particular needs of neck, back and shoulders. Thanks so very much.
These two sessions I have received at BTI have truly refreshed my body, mind and spirit! The atmosphere and surroundings are perfect for a spa retreat, which is how I feel about my treatment here.
My student therapist did an excellent job! I have received over 40 professional massages in my life and this ranks among the very best!