A Special Message from BTI's Co-Directors
– 
To the Community:
It has been our great honor to lead the Body Therapy Institute over the past three decades. The opportunity to work with our students, staff and faculty in a life-changing educational model has been deeply rewarding and fulfilling.
Five years ago, we decided that it was time to look towards our retirement from the massage school business. As it is said, To everything there is a season, and a time to every purpose under the heavens. So that we may bring this wonderful endeavor to a point of completion, we have announced a "sunset year" for BTI in 2016.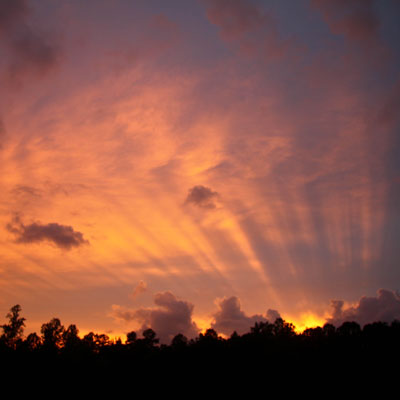 On March 7, we started our final class in the Massage Therapy Diploma Program, which will graduate in early November. There is also a full schedule of continuing education workshops for professionals, which is listed on this website.
We encourage those who have been wanting to study at BTI to take advantage of these final offerings, before the school closes at the end of 2016.
Looking back, Rick launched BTI as the first massage school in the Carolinas in 1983 and built a solid curriculum based on his clinical experience in massage therapy, structural integration and body-centered psychotherapy. When Carey joined him as co-director in 1993, she brought her extensive background in teacher training and whole-person education to develop a brilliant and skilled faculty that has been the bedrock of the school for these many years.
BTI has been a grand experiment – to operate a holistic business that is congruent with the therapeutic approaches we present in the classroom; to treat our employees with respect and love; and to make the experience of our students our top priority.
Throughout it all, we have held a commitment to integrity as our bottom line, and have consistently chosen quality over quantity. The result of our collective efforts is a school of the healing arts that is a shining example in the world of education, and a corps of graduates who provide invaluable services to everyone they touch.
More than anything, BTI has been a place of transformation. The school's mission of providing Learning that Changes Lives has been experienced by the thousands of students who have trained here, as well as those who have worked here. While transformation can occur through any course of study, we've been particularly fortunate to have the rich ground of mindfulness, compassion and embodiment to shape and guide the body-oriented programs we've offered.
To be sure, the prospect of BTI's end point brings up many emotions for us. We treasure the fabulous colleagues we have the pleasure of working with, and take ongoing satisfaction in knowing that the BTI experience has influenced the lives of so many people. We are looking forward to a slower pace of life once we relocate to our home on the Big Island of Hawaii that we've been visiting from time-to-time during this five-year transition period. We are also exploring how we can continue our contribution to the profession through teaching, writing and consulting.
We are so grateful to you for your participation and support. Throughout 2016, our Diploma Program, CE workshops and student clinics will all take place as they have in the past. BTI's dedicated staff and faculty will bring their best to you, as we share this full-bodied time of completion and celebration.
Join us in this last leg of the journey.
With our love and best wishes,
Rick Rosen & Carey Smith
P.S.  The Spirit of Learning® and other teacher training programs offered by the Center for Embodied Teacher Education will continue under Carey's direction at a location to be determined.