BTI Grad Sara Clawson Awarded Graduate Fellowship at UNCG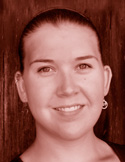 Sara J. Clawson, a 2009 BTI graduate, was recently awarded a Hayes Fellowship from the University of North Carolina Greensboro. This $22,000 award will support Sara in her pursuit of a Doctoral degree in Kinesiology. She previously earned a Masters of Science in Sports Medicine from the School of Health and Human Performance at UNCG.
The Hayes Fellowship is one of the largest and most prestigious graduate awards given at UNCG, and is based on the student's prior academic performance as well as recommendations from references.
Sara has focused her professional practice on Sports and Performance Massage. She is also an adjunct instructor of biomechanics at Greensboro College, and a continuing education presenter at BTI. She says, "When I'm not treating clients in my office or teaching, I'm out on the road traveling with TWENTY16 RideBiker Pro Cycling, a women's UCI World Tour professional road cycling team based out of California. I serve as the team's head soigneur, which is a position specific to cycling teams — it is essentially a combination of massage therapist, trainer, medic, nutritionist, chef, psychotherapist, chauffeur, and generally benevolent caretaker. Race horses have grooms; cyclists have soigneurs."
We're extremely proud of Sara's achievements, and wish her continued success in her academic and clinical pursuits! Here's an interview with her in a post from the UNCG Department of Kinesiology: http://kin.wp.uncg.edu/incoming-edd-student-sara-clawson-awarded-hayes-graduate-fellowship/