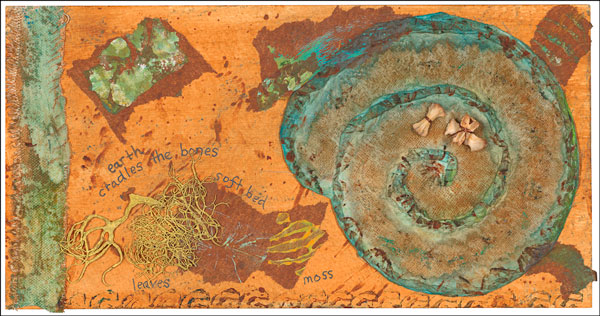 Carey Smith, BTI Co-Director, is presenting an art show and sale entitled
Body, Earth & Imagination
This interactive event will be held at the classroom building at South Wind Farm on
Saturday, April 30 from 11:00am-5:00pm, and
Sunday, May 1 from 1:00-5:00pm.
The show will feature new original works that blend mixed media, archetypal themes, poetry and found objects from nature. The theme of this show is the healing and generative relationship between the human body and the natural world. In addition, there will be works displayed from Carey's 2006-07 art show, Awakening Wisdom.
The event will also offer interactive art making, live piano music, and a Q&A session each day with Carey and her art teacher Sue Anderson. They will be discussing the transformative process of art and learning.
Many of Carey's original pieces will be available for purchase, as well as archival Gicleé prints. [Click here to preview some of them.] Copies of her book, Awakening Wisdom: Exploring the confluence between Learning, Healing and Creativity will be available. This book, published in 2006, documents the developmental process that gave rise to this show.
The show will be at the Body Therapy Institute
300 Southwind Road, Siler City, NC 27344