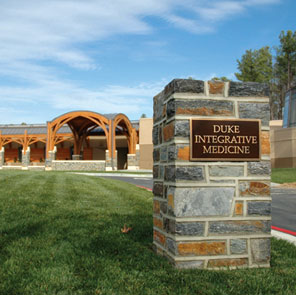 BTI is excited to again collaborate with leading clinicians and researchers from Duke Integrative Medicine to help members of the massage therapy community gain the knowledge and skills to participate in research and to collaborate with other health care providers in interdisciplinary settings.
On Friday, July 24, you'll have the opportunity to join Adam Perlman, MD, MPH, Teresa Keever, RN and Kim Turk, LMBT for a one-day intensive introduction to the world of research as it applies to the field of massage therapy. Learn how a world-class integrative medicine center is organized, and how massage therapy has been incorporated into their holistic model of patient care.
Dr. Perlman is a strong advocate of massage therapy, and is the recipient of a grant funded by the National Institute of Health to continue his research on massage therapy for osteoarthritis of the knee. This NIH study, the largest one of its kind being funded the National Center for Complementary and Integrative Health, is entitled EMBARK: Exploring Massage Benefits in Arthritis of the Knee. It seeks to assess the value of Swedish massage in decreasing pain and improving function for adults with osteoarthritis of the knee.
This workshop will give you:
Awareness of the role Integrative Medicine is playing in our evolving healthcare system
An understanding of the structure, purpose and basic terminology of a research study
Protocols for how to work within a research team to ensure consistent methodology and usable results
Strategies for collaborating with doctors and other health care providers in a wide range of treatment environments
NOTE: This workshop meets the research education requirement for renewal of the NCBTMB Board Certification credential.
Click here for the complete workshop description and presenter bios.