Carey Smith leads somatics training for UNC-Chapel Hill mental health providers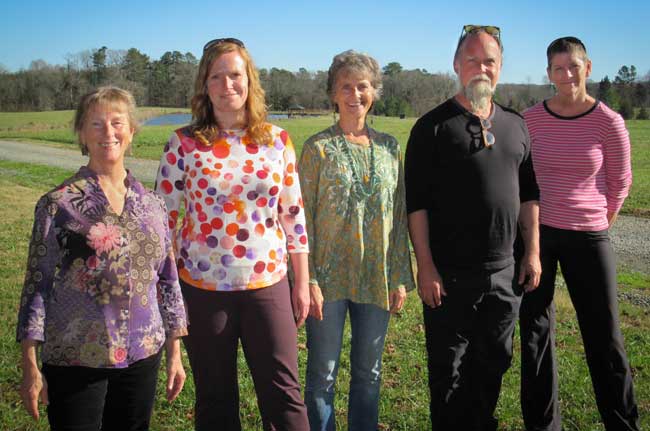 ooo
Along with her role as BTI's Co-director, Carey Smith is a Master Somatic Coach and Director of the Center for Embodied Teacher Education. On December 14-16, she led a three-day training at BTI for the staff of Counseling and Psychological Services (CAPS), entitled The Embodied Psychotherapist: Using Somatics in Everyday Counseling.
CAPS provides mental health services and support for all students at the University of North Carolina at Chapel Hill. Their staff includes psychiatrists, psychologists, counselors, social workers and psychology interns.
Carey designed and delivered this groundbreaking program with Allen O'Barr, MD, Psychiatrist and Director of CAPS, and Maureen Windle, PsyD, Psychologist and Clinical Director of CAPS.
The training drew upon the current interface between neuroscience and somatics that bridge the fields of mental health and body-oriented disciplines.
Over the three days, the participants explored somatic theory and practices that created greater experience of an embodied self. This allowed them to generate and incorporate new strategies to build greater confidence, capacity and satisfaction as a team in their work with students.
Carey reflected, "It was a great honor to be in the presence of professionals with such open minds and hearts. Their capacity to show up fully, work hard and laugh often created a learning environment filled with wholeness and vitality."
Assisting in this training were Carol Verner, LMBT, Master Somatic Coach and Trainer for the Center for Embodied Teacher Education, and Emily O'Barr, LMBT, graduate of The Spirit of Learning® and former BTI faculty member.
(In the photo, from left to right: Carol Verner, Emily O'Barr, Carey Smith, Allen O'Barr, Maureen Windle.)