BTI offers FREE 3-CEU Class on
Advanced Myofascial Therapy
Saturday, October 31 at BTI | 1:00-4:00pm
with John McKelvey, MS, LMBT
o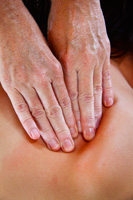 Learn how to expand your practice and provide new therapeutic benefits to your clients!
This FREE class will provide an overview of the integrative approach to structural bodywork that is presented in a graduate-level training program at BTI each year.
Lead instructor John McKelvey will introduce you to the hands-on techniques used in this method, the optimal body mechanics that make the work easier on you, and the bodyreading skills that help you design the most effective session strategies.
In addition, you'll learn about the Core Somatic Functions of Ground, Center, Breath and Contact, and how they can dramatically improve therapeutic outcomes for the client — as well as increase your own sense of well-being in the work.
This FREE class is only for currently licensed massage and bodywork therapists. Limited to 32 participants; registration is first-come, first-served.
To sign up, call the BTI Office at 919-663-3111, or email info@bti.edu with your name, address, phone and state license number.
Those who attend will receive a certificate of attendance, with documentation of 3 hours of continuing education credit that can be applied to license renewal.
BTI's next Advanced Myofascial Therapy Certification Program begins December 1, 2015. Click here for the complete program description and Registration Form.