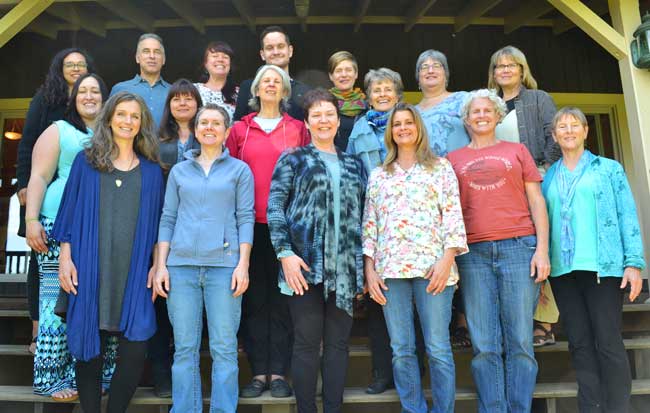 We offer our congratulations to the graduates of the 2015-16 Spirit of Learning® Teacher Certification Program. This 100-hour training has been offered at BTI since 1998 by Carey Smith and the Center for Embodied Teacher Education. These dedicated learners will take their new skills, knowledge and awareness into many areas of teaching and clinical practice.
Another cycle of The Spirit of Learning® will begin at BTI this September, and applications are being accepted now. Click here to receive your FREE CATALOG and application form.
FRONT ROW: Jill Peden, Angie Dix, Roxanne Cherpeske, Deanne DiGirolamo, Michele Casey, Carol Verner (Faculty). MIDDLE ROW: Jillian Diffenbaugh, Kelly Hankey, Diana Latendresse, Carey Smith (Faculty). BACK ROW: Megan Jones, Michael J. Savino, Margery Nelson Price, Matt Adams, Melinda Hunt, Debbie Blake-Knox, Karen Delahunty (Faculty).