Welcome to BTI's New Website!
We're very happy to share this new site with you! It features a wider page width for readability, and a streamlined navigation structure for ease of use. Every page has a main set of links in the header, along with a set of footer links. The links in the main nav bar have drop-down menus that will take you wherever you want to go within the site. You can see how it's all organized by visiting the Site Map.
Here is a list of the main sections, and the pages you'll find under each one:
DIPLOMA PROGRAM: Everything you need to know about BTI's renowned Massage Therapy Diploma Program, including the Five Easy Steps to Enrollment, the BTI Introductory Massage Workshop, Financial Aid Overview, How to Choose a Massage School, and The BTI Difference.
CONTINUING EDUCATION: A complete listing of the continuing education workshops and advanced trainings offered at BTI. You can search for programs on two different pages: Workshops by Month, and Workshops by Category. There's also a special section for Teacher Training, offered by the Center for Embodied Teacher Education.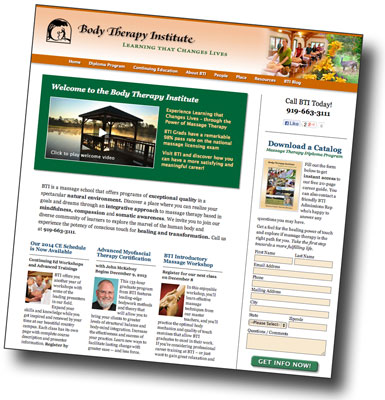 Click on the workshop title to visit a dedicated page for each workshop, containing a complete course description and presenter bio.
Be sure to take advantage of the 10% Early Registration Discount for all 2014 courses at BTI (offer good through 2/15/14). You can register online using our secure page.
ABOUT BTI: In this section, you can see our Accreditation and Approvals, get the answers to Frequently Asked Questions, learn about the 30-year history of BTI, and watch some videos of BTI and massage techniques.
PEOPLE: Get to know our dedicated Faculty and Staff, read some very inspiring Testimonials from graduates of BTI, and see the composition of our Student Body and photos of past classes from the Diploma Program.
PLACE: Discover the beauty of our country campus at South Wind Farm, get a precise set of Driving Directions to our location, view two different Slide Shows on the school and campus, and see the diverse range of flora and fauna here through a Field Guide to South Wind Farm.
RESOURCES: Look here if you want to Contact BTI or book an appointment in our Student Massage Clinic. With the premiere of our new site, we are opening up the BTI Resource Bank for use by the entire massage and bodywork community. You'll find information on Jobs, Treatment Spaces for Rent, Volunteer Opportunities and More! This section also includes an extensive page of Articles by some of the leading authors, educators and clinicians in our field.
CATALOG REQUESTS: If you want to receive a Diploma Program catalog, just fill out the form on the sidebar of the homepage or one of the pages under the Diploma Program section. You can request a catalog and application for The Spirit of Learning® Teacher Certification Program by completing the form on the sidebar on any of the pages under the Center for Embodied Teacher Education.
Be sure to update any Bookmarks or Favorites you have in your browser to the previous BTI website, as all page URL's have changed. When in doubt, just go to our homepage at www.bti.edu and use the new navigation links.

*   *   *   *   *
For the tech-curious: our new site is built on a WordPress CMS platform. We worked with AS Designs & Services of Hilo, Hawaii on the site development. If you encounter any problems with the site, email a description to us at info@bti.edu.